If you are looking for solar power by certified energy professionals that you can trust, then you are in the right place!
Bluewater Energy is located in Guelph, Ontario, and has earned the trust of hundreds of homeowners and communities across Ontario. We're honoured to have served hundreds of commercial, institutional, agricultural, and residential customers since 2007 and we'd be honoured to serve YOU too!  Call us, or fill out our contact form below to start planning for your energy independence today.
COMMERCIAL SOLAR INSTALLATIONS
RESIDENTIAL SOLAR PROJECTS
COMMERCIAL SOLAR SOLUTIONS
We design, build, commission, and service solar energy systems for commercial and industrial clients.
Why choose solar for your commercial buildings?
Direct improvement to your bottom line.
Generate your own power and create carbon credits for your business.
Stabilize your power costs and move toward energy independence.
Contribute to environmental sustainability.
Advance social responsibility.
Some of our previous projects include the Envida Community Energy project:
Fire Department Headquarters, River Run Centre, Public Works, Lawn Bowling Club, Lyon Park, and Fire Station 5 are all located in Guelph.
Interested In Our Diverse Array of Commercial Solar Solutions?
HOME BUILDERS & NET ZERO SOLUTIONS
At Bluewater Energy, we believe that Net Zero homes are the wave of the future, and we are proud to be spearheading solar installations for Net Zero home builders across Canada.
How Do Net Zero Homes Work?
A Net Zero Energy (NZE) home is one that is designed, modelled, and constructed to produce as much energy as it consumes on an annual basis.  The energy produced is generated on-site and is from a renewable source.

Energy needs are reduced to a minimum, then a 

renewable solar energy system supplies electricity to off-set all of the home's needs.

Battery storage options are also available for back-up power, and reducing loads during peak demand periods.
Why Go Net Zero?
Mostly because of the reduced energy costs, and the security that you will feel as energy costs increase over the next several years.  In addition, a Net Zero Energy home is the most comfortable home you will ever step into.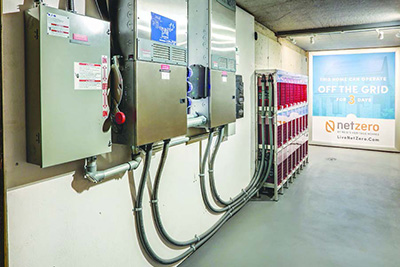 OUR PREVIOUS NET ZERO PROJECTS
WrightHaven Homes
Located at 134 First Line Road in Elora, Ontario is a home that produces as much energy as it consumes on an annual basis.

We are honoured to say that we had the pleasure of partnering with WrightHaven Homes to provide the solar generation and battery storage for one of the first Net- Zero model homes in all of Canada.

This home operates completely off-the-grid from April to September, and includes an 11.4kW solar power generation system, a 2000AH battery storage bank, and 16kW of peak power for the home.
Reid's Heritage Homes
Bluewater Energy partnered with Reid's Heritage Homes to execute, design, and provide generation systems for five Net-Zero homes in the Westminster Woods community in Guelph, Ontario.

Each of the designs are unique, incorporating different technologies, and the installed photovoltaic solar panels on each of these homes help the homeowners achieve a Net-Zero lifestyle.

These solar projects have enabled us to showcase our skills and expertise in quality solar energy systems.
Are you ready to move forward and have a conversation about our Net Zero Solar Solutions?
RESIDENTIAL SOLAR SOLUTIONS
microFIT Program
With the Ontario microFIT Program, you will be paid a guaranteed price for all the electricity your project produces for at least 20 years. In most cases, and depending on the size of your roof, you could earn over $70,000 in the next 20 years. The microFIT program is where a home or business owner, develops a very small or "micro" renewable energy generation project on their property of 10 kilowatts or less. 
microFIT Program fully ends December 2017. Submit your no cost application approval by November 2017 to secure your gov't solar incentive now!
Net Meter Program
Net Meter is a program that allows you, as a home or business owner, to generate electricity from renewable  resources for your own use to offset your hydro bill. The excess energy is sent to the grid and then credited toward your future energy costs.  Establish your own energy independence with a Net Metered solar project today.
How does Net Meter work?
Once your project is connected, what you will see on your next electricity bill is the "net" difference between the electricity you generate and the electricity you use.

If you generate more electricity than what you take from the grid over the billing cycle, your  hydro supplier will remove the electricity charges for that period.

You will receive a credit towards your future energy bills for the excess amount of electricity produced.

The credits can be carried forward for up to 12 months and applied against future bills when you  are using more electricity than you are generating. You will see a decrease in your hydro expense immediately.
Do You Qualify For the microFIT or Net Meter Programs?
OFF-GRID SOLAR ENERGY SOLUTIONS
Designed with your project location in mind, Bluewater Energy provides solar energy solutions when reliable power for remote areas, as well as where ever unattended power is needed.  Technology has come an incredibly long way, and truly achieving off-grid living is now more possible than ever before.
Off-grid power for small cabins, cottages, and homes.
Solar sign lighting for billboard displays, road signs, company signs, street area lighting, etc.
Self contained microgrids that generate power using solar panels, store that energy in batteries, and provide you power when and where you need it.
Battery back up systems for areas that experience regular outages.
Are you ready to move forward and have a conversation about our Net Zero Solar Solutions?